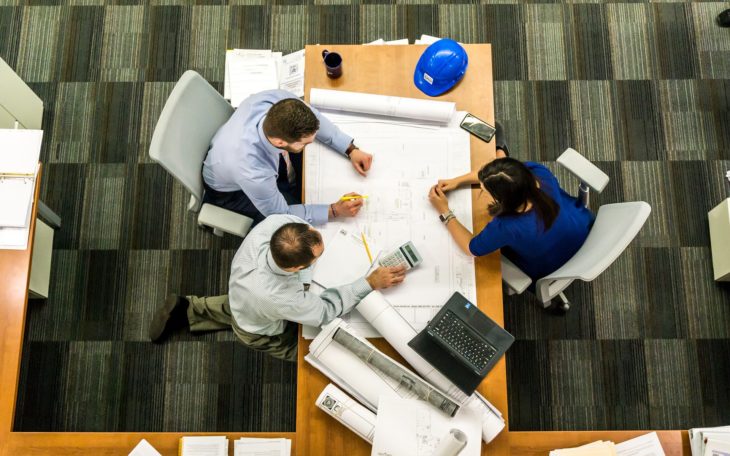 Hiring the right contractor is imperative to building your dream home. Unless you're that rare human who likes to roll up your sleeves and do the job yourself, a contractor will do most of the heavy lifting. This means more time for you to focus on the important stuff, like color scheme and landscaping. But finding the right contractor can be a daunting task. Many on the market are known to take your money and run. Thankfully, we've laid out this step-by-step process. Check out LandCentral's 7 Easy Steps to Hiring a Contractor:
Step #1: Get recommendations from those you trust
We live in a 5-star culture where reviews are the life line of any business. The same is true of contractors. Turn to your friends and family for reviews on contractors they know in the industry. Don't know anyone with a referral? Check the National Association of the Remodeling Industry for a list of contractors in your area.
Search for a trusted contractor
Step #2: Give them a call
Once you have a list of potential contractors, give them a call. Just like any employer, you will call your potential "employee" for a basic interview. Make sure you have a list of questions ready, such as:
Do they take on projects of your size?
Are they willing to provide financial references, from suppliers or banks?
Can they give you a list of previous clients?
How many projects do they typically have going at the same time? (This is a big one as too many projects can lead to a slower finish date and a rushed quality.)
How long have they worked with their subcontractors?
Asking them questions will help you get to known ore about their operation and set the tone that you are the type of client that does your research beforehand (meaning you're less likely to be taken advantage of).
Step #3: Check for References, Licensing & Insurance
Check in with your local Better Business Bureau before you agree to meet with them. No sense in wasting your time if they don't have a good reputation. Most contractors now a days have website that typically list their licensing and insurance. Follow up with those companies to make sure it's true. If you can, call up past clients of theirs and ask how the process was for them.
Step #4: Ask for a Mutually Agreed Upon Contract
Make sure any project you agree upon with a contractor has a mutually agreed upon contract, including a lien waiver. These will protect you from retribution from subcontractors (outside companies the contractor will likely hire for the gig).
What's a lien waiver? A waiver of lien is a document showing money received and should highlight when the contractor pays off any subs. This will ensure that everything is paid off at the end of building and no more lien can occur.
Step #5: Narrow down your list, then compare bids
After researching a few contractors, you'll likely narrow down your list to a few potential candidates. Set up a time to meet face-to-face and go over your project, complete with blueprints and your budget. Now it's time for them to compete for your business. Ask them to compare bids including pricing on:
Materials (typically 40% of the job)
Labor
Profit Margins (15-20% of the total job)
Other expenses
Step #6: Set a Payment Schedule
If your contractor asks for half the bid payment up front, this is a sign of financial struggles. Not exactly what you want in a contractor. The typical payment schedule begins with 10% up front, then three payments of 25% during the building phase, with the final 15% at project completion.
Step #7: Write it down!
While your contractor will likely have a contract stating everything that needs to be covered, just in case, let's make you a contract writing ninja. A good contract should include:
Every step of the project
Payment schedule
Proof of liability insurance
Works compensation payments
Start date
Projected completion date
Materials and products that will be used
Requirement that the contractor obtain lien releases (remember, this protects you if they don't pay their bills)
BONUS TIPS
Be wary of the lowest bidder – This guy is likely cutting corners to get the job done fast and cheap. Remember, like most things in life, you get what you pay for.
Pay attention to communication style – Try to pick a contractor who is a great communicator. This means they won't leave you wondering for months on end with no response. Great communication from the beginning will make this entire process go smoothly.
Do your best not to make changes after construction begins – Ideally, going in with a plan and sticking to that plan will make for a speedy project. Any changes or issues you uncover during the building phase will extend the completion date and, you guessed it, increase the cost. So do your best to put it all on the table upfront.
So there you have it, LandCentral's 7 Easy Steps to Hiring a Contractor. Now go forth and build your dream home. We'll even help you find the land of your dreams.