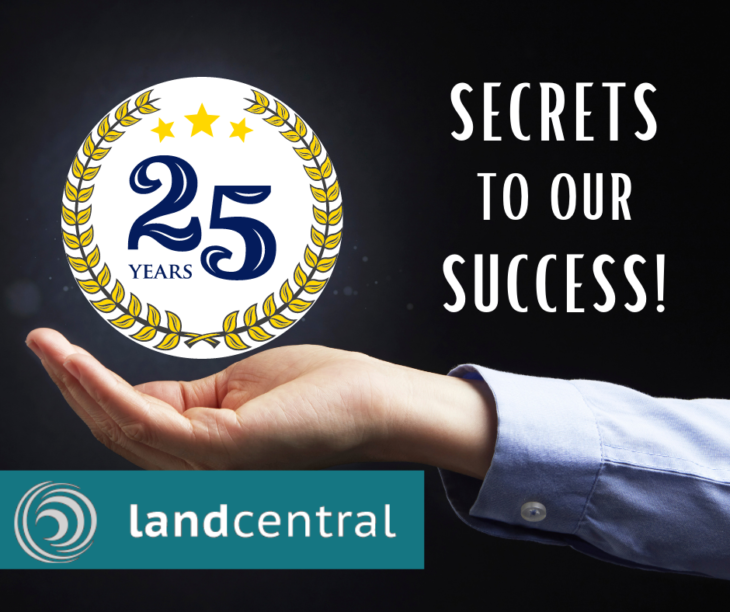 Did you hear the big news! LandCentral is turning 25!
That's right, we've been making dreams come true for more than two decades. If we were a person, we'd be able to vote, drink, and officially rent a car. Thankfully, we're so much more than a person. We're a company connecting hard working people like you with the property of your dreams.
We can hardly believe it's already been 25 years. But hey, time flies when you're having fun. And boy, have we had fun. But like a fine wine, we've gotten better with age. From selling our first property out of a newspaper ad to becoming the online leader in land sales, we've changed a lot in our 25 years.
So, let's celebrate 25 years by sharing a few Secrets to Our Success:
#1. We're Family Owned
Yep, your favorite land company is owned and operated by a small family. That means we've had the same ownership since the beginning, way back in 1997. Consistency is key in the land selling game. That's why we're thankful for operating under the same ownership, meaning our company has been able to adapt and evolve while keeping our original mission intact.
#2. We Have Repeat Customers
One of the secrets to our success is the volume of repeat and referral customers we have. Because of our one-stop shop approach to buying land, people find we've taken the stress and guesswork out of real estate investing. And everyone digs that. In fact, they like it so much they use us for multiple purchases, building investment portfolios like a mogul, and even referring their friends and family to our site. They think we don't notice, but we do. And we thank them any chance we get.
#3. Our Blog Educates the Masses
We have thousands of readers using our blog to learn all about real estate investing. From easements and septics to how to go off grid, our blog teaches readers everything they need to know about owning property. We even regularly highlight our favorite lots available for sale. Of course we have competitors out there, but nothing compares to our straight shooting blog of how to be a successful land owner.
#4. We are Super Easy to Contact
Remember the whole family owned business vibe we've got going on? That plays in our favor when it comes to contacting us. We employ knowledgable staff ready to help and when you reach out to us with a question, concern, or just want to throw a little praise our way, you get in touch with a real person every time. Quality customer service goes a long way. Who knew?
#5. We Go Above and Beyond Even After the Sale
While we love connecting future land owners with the property of their dreams, for us, it's about so much more than the sale. This is why even after you've purchased your lot or are making payments toward official ownership, we stay involved with any issues that arise. Don't believe us? Check out this testimonial from Nathaniel about how he got more than he bargained for and how we were there every step of the way.
#6. Our Staff is Pretty Amazing
As a small company, our employees become family. That's why we hire people who are just as excited at connecting hopeful land owners with the right property as we are. Not only are they knowledgeable in what we do, but they have a passion for helping people and are always willing to go the extra mile to ensure each sale is a success.
#7. All Financing Stays In House
Thanks to our one-stop shop approach, all financing stays in-house. This means no wait times for approval or dings on your credit. This is due to Owner Financing! No banks, no hassles, no lengthy paperwork full of fine print and signatures. This is a main ingredient to our secret sauce of land sales. By cutting out the middle man, we have you closer to owning land with low monthly payments without the stress. Check out What LandCentral Can Do For You.
So now you know the Secrets to Our Success. Amazing staff, easy financing, repeat customers, and family owned magic. Stay connected with us as we navigate this 25th year with new deals and even more opportunities to make your dreams come true!