Once the decision has been made to construct a new home instead of purchasing one on the market, a plethora of decisions and choices that need to be made becomes quickly apparent. In this sea of decisions it is very common for little things to creep into a build-budget. On top of that, there can be big ticket items that just weren't expected. Anyone looking to build should include a 10%-20% cushion of cash on hand for these unexpected expenses. Remember that this is not a comprehensive list of unplanned expenses.
Winter Blues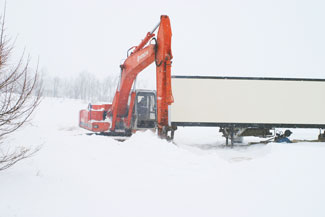 If you live in a climates where winter is more than just snowbirds or lots of rain, there is a finite amount of time that is ideal for building a home. Working outside that timeframe can quickly add expenses. Even with the best laid plans, county delays in processing permits or approving zoning exemptions can push back the timeframe even further.
Consider trying to do anything requiring dexterity wearing bulky gloves. Think about your garden hose left outside in the winter cold and how stiff and tough to manage it gets; a builder's air hoses can be the same. Shorter days, amount of snowfall the night before and road conditions can all limit a builder's daily progress. Sometimes the first hour of the already short day must be spent clearing snow from the site and working surfaces and thawing frozen tools. All this ends up costing the homeowner, so plan accordingly.
Building Assumptions
Other than assuming there will always be unexpected costs that creep into a build, you should never assume anything else. One of the biggest items that can blindside a new homeowner is the connection cost to hook your new home to the utility grids. Hooking up to electric or water can easily top $10,000, depending on the location of your home. It is crucial to call the utility companies prior to breaking ground to get a better understanding of what it will cost to connect to the grid.
"How were we supposed to know…?"
Hidden, subterranean anomalies like large boulders or underground springs can greatly slow the excavation or building process. By talking to an excavation contractor in the area, you may be able to get an idea of what the ground is like and what to expect. What if right where your planned foundation wall is to lay there is a massive shale formation? What if you open a small spring that slowly but persistently fills your footer trenches?  Thousands of extra dollars could be spent on fuel, labor and equipment time to waterproof a foundation because of some springs that no one knew existed.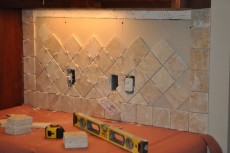 Make It Pretty: The True Cost of Tile
Another area where the building cost can rise is in the finishes in the house. The better the materials and finishes, the more expensive these materials cost. Additionally, these materials might involve more intense installation, resulting in a higher labor bill. The perfect example is tile. Putting a nice mosaic tile backsplash over your kitchen countertop is a great way to bring style and color into a kitchen. However installing this tile is quite a bit more difficult than laying your standard 12-inch ceramic tile on the floor. Not only are the tiles on a vertical surface, but each tile needs individual attention making sure that it is flush with the others and the grout line spacing is consistent between each tile. With that in mind, your per square foot installation cost might be double that of what it would be for laying floor tile.
The Little Things in Life
It is easy to forget small things that newly-built homes do not yet have. Example such as light bulbs, a mailbox, grass and landscaping and gutters are all items that might get overlooked in the initial design and construction, especially if you don't build houses for a living. These can quickly add up to a considerable amount of money that can put quite the hurt on a wallet.
The above examples are, for the most part, necessities in a new home.  However, there are other amenities that are easier and cheaper to install at the time of construction than they would be down the road. It's worth taking the time to consider them in the beginning of the process to save you time, money, and hassle in the future.
Some features to think about include: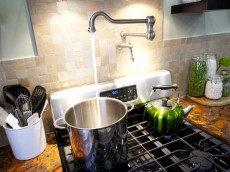 Window moldings
Drawer organizers in the kitchen and baths
Light and motion sensors inside and out
Swing-out faucet over stove for easy stock pot filling
In wall speakers in living and entertainment rooms or throughout the home
TV wiring including cable, Ethernet, HDMI, optical audio
Under and in-cabinet lighting
Window treatments including blinds, curtains and solar films
Outlets in the drawers of bathroom vanities for hair dryers, curling irons, electric toothbrushes, etc.
Fencing
Obviously these features aren't necessities, but most people believe they are nice to have.  If installed during the construction phase they may not impact the overall build-budget by that much, especially considering what they would cost post-construction.
As mentioned above, the items and features discussed here are just a small example of the things that can surprise a homeowner building a new home. With proper planning and plenty of due diligence, many pitfalls and surprises can be avoided or accounted for. Remember to budget that 20% of the overall project cost as a safety net to keep the stress levels from getting dangerously high.