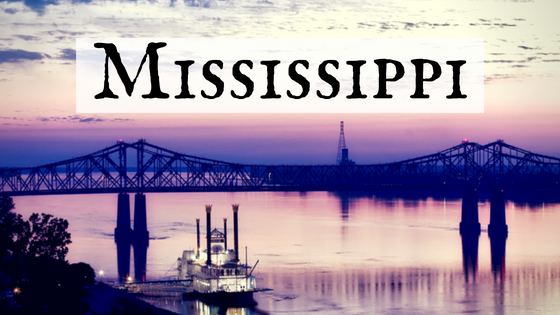 Ah, Mississippi, everyone's favorite state to spell. Known for its fertile land, small towns, and southern hospitality, Mississippi is a pleasant escape from the urbanized rat race. However, with nicknames like "The Bayou State" and "The Magnolia State", it's getting harder and harder to hide this southern gem. If you've ever considered moving to the south, you may want to check out these 6 Glorious Reasons to Move to Mississippi:
#1: Long summers and short winters
That's right. Like most southern states, Mississippi is no stranger to warm weather. The average temperature in the summer is 81 degrees, the perfect weather to host a BBQ or take an evening stroll. On the rare winter days when it does cool down, it doesn't get below 48 degrees. Not a bad place to lay down some roots if you ask us. Don't let the media scare you off with their coverage of thunder storms, hurricanes, and tornados. Those pesky storms are a small price to pay for this southern paradise.
#2: School's in Session
Now it may not be the first thing that comes to mind when you think of the south, but did you know Mississippi is home to more than 50 colleges, universities and technical schools? It's true. The state's come a long way since the Civil War, when they had exactly zero schools in the region. Now, some of the top ranked Universities and Colleges of the south are found in Mississippi. The Mississippi University for Women even made it on the Forbes list of best public colleges. This top notch education doesn't just start at the top either. Mississippi is also home to some of the best elementary, middle and high schools. Take that, southern stereotypes.
#3: Good Eatin'
Calling all foodies. Mississippi is a hot spot for good eats and even sweeter sweets. From mud pie and pecan pie, to fried catfish and biscuits and gravy, you'll find this state has every flavor to tickle your taste buds. Worried about keeping up with your healthy, local, fresh food diet? There are tons of farmers markets to shop from. Yep, even hipsters are welcome down south.
#4: Everything is affordable!
And we do mean everything. Mississippi's cost of living is 15% lower than the national average. This includes low property and income tax. While the average salary is also lower than the national average, transplants coming from other states can see their money go farther. Always dreamed of owning property? At these prices, the Mississippi world is your oyster.
#5: Big City Amenities
Living in Mississippi doesn't have to be all small town all the time. The state actually has quite a few big cities to live on the urban side. From Jackson and Hattiesburg, to Biloxi and Gulfport, these cities show you that just because you enjoy rural living doesn't mean you can't enjoy some big city amenities too.
#6: A Slower-Paced Lifestyle
If you're tired of the hustle and bustle and just want a place to relax, meet friendly neighbors and take each day as it comes, then living in Mississippi just might be for you. Residents in this state enjoy a calm, slower-paced lifestyle. Want to trade the daily grind for southern hospitality? Or how about giving up your morning traffic commute for a gentle stroll down the neighborhood streets? It can all be yours with a simple move to Mississippi.
Whether you've been dreaming of a place down south or this is the first time you've considered an alternative life, let Mississippi call you home. Not sure where to start? Let LandCentral be your guide. We've been selling Mississippi land for more than 20 years. In other words, we know what we're doing.