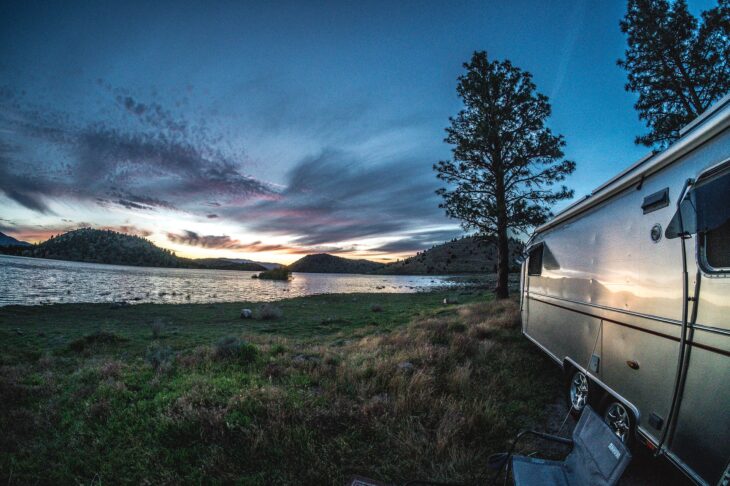 Dry camping has been gaining in popularity since the pandemic pooped on our global party. People suddenly crave nature for the peace that it brings, but aren't quite ready to give up all the comforts of home. Enter dry camping. Let's take a look at what it is and how you can get started today! Check out LandCentral's Dry Camping – 5 Tips for Beginners:
What is Dry Camping?
Easy, it's RV camping off-grid. No hookups, no power, no water or sewer. Just you, your RV, and the land. Dry camping can be be done at an off-grid campsite or on public land for free. You provide all your own amenities.
NOTE: Boondocking is another term for dry camping, though differs because boondocking only refers to camping in off-grid locations, meaning no campsites whatsoever.
Tip #1: Bring enough water and conserve it.
Depending on your length of stay, your lack of water hookup means you'll need to bring enough drinkable water for the duration of your trip. It's recommended each person have 2 liters of water per day to stay hydrated. You do the math from there. And if you're not camping near a wild body of water, make sure to bring extra water for dishes and hygiene needs. This also means conserving as much water as you can. Keep showers short, turn off water in between dish washing, and never leave water running while brushing your teeth. Conserve, conserve, conserve.
NOTE: Bring extra water in case of emergency. It's always better to be over prepared when it comes to dry camping.
Tip #2: Start your dry camping with an empty Grey Tank.
Your grey tank refers to the tank that will collect your waste water. As you use water throughout your stay, your grey tank will start to fill up. It's illegal to dump your grey tank just out in the open, so you'll need to monitor your tank meters to watch the fill line. As mentioned above, conserving water while dry camping will also help with your grey tank levels. In a pinch, you can dump grey tanks at some gas stations, state and national parks, and private campgrounds.
NOTE: The same rules apply for your Black Tank, which is the tank that fills from your toilet waste.
Tip #3: Research the area before you go.
When planning your dry camping trip, it's always good to research the area first. This will prepare you for any incidentals that may occur. Camping in bear country? Make sure to pack the bear spray. Parking in a high-mosquito zone? Don't forget the deet spray. Using a map to plan out your journey will also help identify the nearest emergency services should anything go awry. Though we're pretty sure after a few weeks of dry camping, the only thing you're at risk of is a renewed sense of inner peace. But researching the area does lead us to our next tip…
NOTE: The United States Bureau of Land Management controls 245 million acres of land, most of it offering dry camping!
Tip #4: Consider your Dry Camping vehicle.
When we're talking about RV dry camping, we're using the term RV loosely. You may not have an RV. You may have a motorhome, 5th wheel, camper van, truck camper, pop-up camper, or any other variation of wheeled camping vehicle. They all apply here. Which means it's important to consider which vehicle you'll be taking to your dry camping spot. A motorhome is a rather large RV that may not navigate that remote one lane washboard road at the top of Mt. Adams. For that location, you may want to go with a truck camper. If you already have your RV of choice, we suggest planning your trip around that. If you haven't yet purchased or rented your camper, try planning your destination first, then choosing the best vehicle to accommodate.
Tip #5: Start with a short trip!
As with anything new, start small, or in this case, short. Sure, you can pack up for a month long dry camping expedition right out of the gate, but it's not recommended. There's just too much to learn. So start short. Try a weekend, and jot down notes on how to improve. Each camping trip is as unique as the camper themselves, so no two are the same. Learn what works for you. Your needs, your likes, your mistakes, and tailor it to fit until you feel confident to spend 2-4 weeks dry camping to your heart's desire. Who knows, you may even become a full-time off-grider. We can think of worse ways to live.
Bonus Tips:
Some dry camping can take place at wineries, breweries, and farms through the network Harvest Host.
Stay on a private property through Boondockers Welcome. It's like Airbnb for campers!
Try out a Solar Generator for access to power without hookups.
Don't forget to get out into nature. That is, after all, why you're there.
So there you have it. LandCentral's Dry Camping – 5 Tips for Beginners. We hope you'll get out into the great outdoors and experience it for yourself. We even have a few ideal plots of land to get you started. Check out our properties in Wyoming and North Carolina, on sale now!