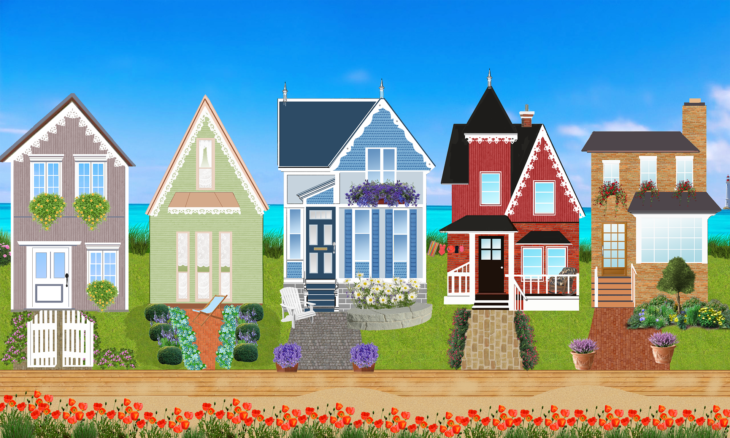 Narrow lots may seem less appealing at first glance. You may think the possibilities to build are limited and privacy is basically impossible. But narrow lots are actually all the rage in this minimalist economy. Many people are finding they can get more house with less space by getting creative and actually spending less money. Yes, it's true. And we're here to show you how. Check out LandCentral's How to Build Big on a Narrow Lot:
Think Vertically
The typical narrow lot is 40' wide or less. Most homes stretch out horizontally, taking up way more space than they need. But narrow lots restrict that option and you should be thankful for that. When you build your home up not out you can have a three or four story home, not just giving the illusion of space, but giving you actual space.
Think Energy Efficient
Piggy backing off the vertical building plan, homes that go up not out are more energy efficient, saving you money in the long run. This is because exterior walls in narrow lot homes have less area than the traditional beefy home, translating to less heat loss. Less area also means you can afford to throw in some high-performing insulation, again providing you with less energy loss. Another perk is the possibility of a green roof. Because your tall skinny house will likely rise above any surrounding trees, you'll have the opportunity to catch the rays with some super trendy solar panels. Solar panels are great for generating electricity or replacing your old gas hot water heater.
Think Open Spaces
Narrow lot homes can often have an open floor plan. Thanks to the exterior walls of the structure being close enough together to carry the weight of the ceiling entirely, you don't have to place pointless walls on the interior. This open layout creates a striking visual effect that increases the length and size of your home.
Think High Ceilings
With a narrow lot home, the sky really is the limit. No seriously, when you build up, you rarely run out of space. This means you can have vaulted ceilings that give the illusion of space and offer a not so closed in feel to your home.
Think Privacy
Narrow lots don't exactly scream privacy. The very reason they're narrow is because they are likely squished between already existing lots or homes. This means you'll have to get creative when it comes to privacy. Strategically placed windows in the front or back of the house can bring in plenty of natural light without the result of your neighbors prying eyes. When windows are on the side of the house, make sure they are windows that look in on your stairwell, laundry room, or hallway.
Have no fear. Narrow Lot House Plans are here! Check out these very real plans already available:
While the average home size has grown 24% larger over the past decade, the average lot size has decreased by 10%. So if you want to build your dream home but you don't want to sell your first born child to get it, get creative with a less expensive narrow lot. Aren't you glad you stumbled upon LandCentral's How to Build Big on a Narrow Lot? Whether you're looking for a narrow lot or a traditional one, we've got you covered.