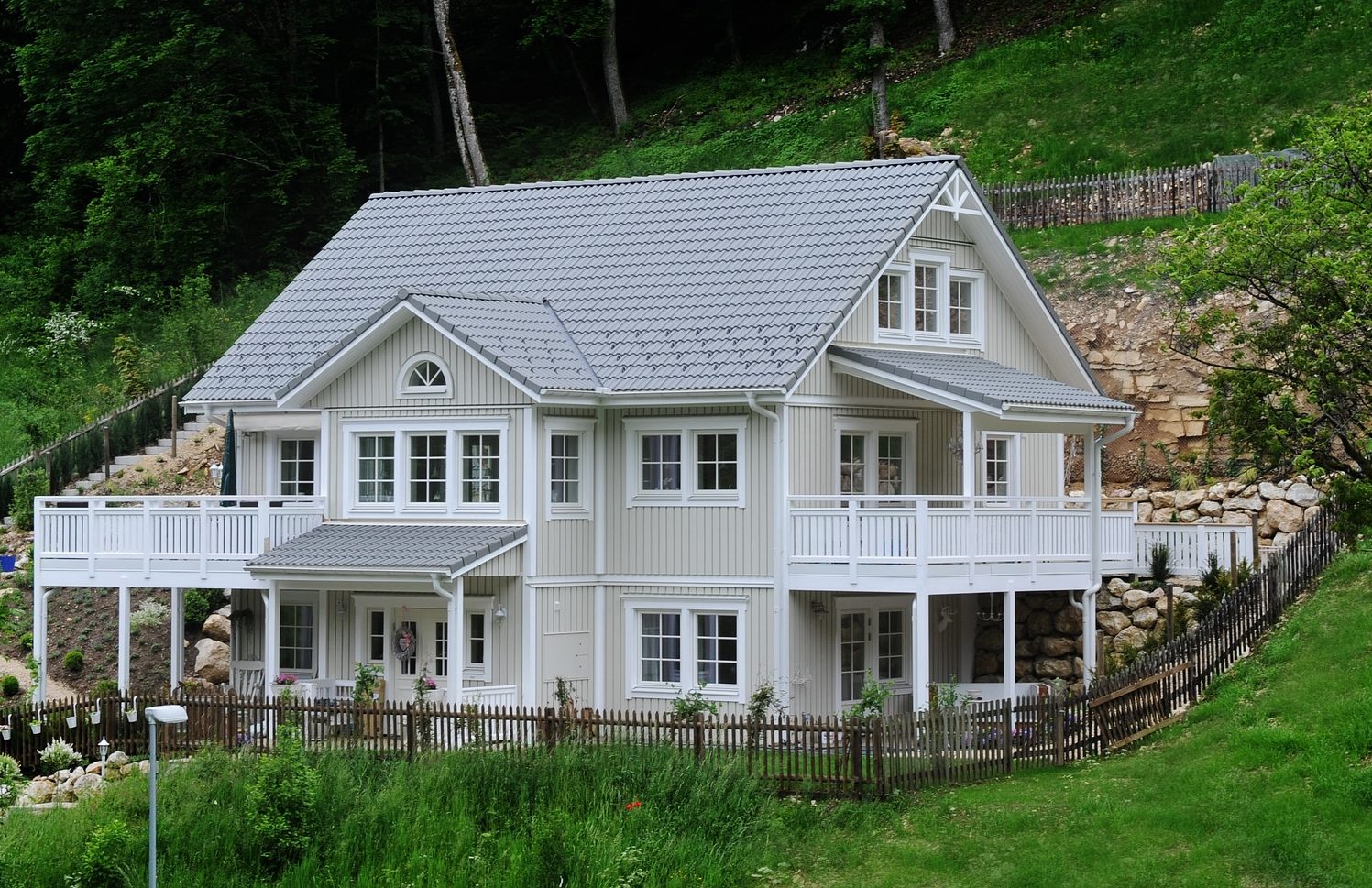 Many people avoid purchasing sloped land. They think that other than a good water slide, there's not much you can do with it. Well, think again. Sloping home sites offer plenty of opportunities. And we hate to burst your bubble, but even that "flat" lot you've been eyeing may have a slight slope when it comes to laying foundation. But don't take our word for it. Check out Sloped Land: The Good, The Bad, and The Awesome.
The Good
Natural Light – Most homes built on sloped land will have one side that has full-length windows in every room of the house. This allows for more natural light to pour in, saving you money on your electric bill. Plus, you'll get an extra dose of Vitamin D from any room in the house. Can you say that about your boring old flat lot?
Cost – A sloped land typically requires less excavation than a site on level ground, meaning less payment to the heavy equipment gods.
Options – When you open yourself up to a sloped lot, you're discovering a whole new world of options. No more searching for that perfect plot of flat land to go on sale and then getting into a bidding war with the hundreds of other people looking for the same thing. By getting creative with a slope, you can have the home of your dreams without the competition.
Walkout basement – No more dungeon-inspired basements! Sloped lots often allow for builders to add in a basement with walkout capabilities. This gives home owners the chance to enjoy a well-lit lower level with the possibility of a deck, patio or pathway to the outdoors.
The Bad
Drainage Issues – We hate to be the bearer of bad news, but mudslides and flooding are a real threat to a home built on a slope. That's why proper drainage and soil is key. But have no fear, we humans have a way of adapting. Builders will usually build a retaining wall or create a pathway for water to move past and beneath your home without affecting the structural stability. To put your mind at ease, talk with a civil engineer or experienced excavator to determine how to build strategically on your slope to avoid the dreaded mudslide.
Cost – The cost of building on a sloped land is entirely determined by the steep of the slope.
Moderate slope – Easiest and cheapest. This is a slope with a grade of less than 10%. Once the grade reaches between 15% and 20%, the cost goes up to account for foundation.
Steep slope – Moderate cost. With a grade of over 20% comes more extensive earth moving and soil stabilization, adding to the cost. This will vary greatly depending on accessibility, so get an estimate before you shoot it down.
Hillside slope – Expensive. This is a slope of 50% or more. To build a house here you have to have a complex engineered foundation installed by a hillside specialist. Plus, you may need to pay extra for utilities to reach your home; all things to consider when adding up the cost. But hey, we're not here to judge. If you can afford it, go for it!
The Awesome
Views – Seriously, houses built on sloped land have some of the most breathtaking views around. Whether you're staring at the vastness of the ocean from a hillside in California, or the towering beauty of the mountains in Colorado, you'll find nothing beats the views of a home built on a slope.
Architecture – Because slopes add certain obstacles to the building process, builders often put on their creative hat when it comes to crafting your dream home. This can lead to some pretty awesome structures. Basement walkouts, panoramic windows, and unparalleled vantages are all possible with a unique home on a slope.
Exclusivity – Homes built on a hillside or slope typically offer a certain amount of remoteness. Towns are usually always built on level ground, meaning if your house rests on a slope, you likely live in a more rural, exclusive area away from the hustle and bustle.
Less Landscaping – While having that perfectly flat yard with manicured lawn and hedges may seem like the way to go, the reality is those yards require a lot of upkeep. With a sloped property, leaving the wild landscape as is usually equals less work for you. No more planting grass seeds or deadheading rose bushes. A hillside or sloped lot offers plenty of natural beauty without any of the sacrifice.
So what do you say? Ready to give that sloped lot a try? Then contact an experienced builder in your area. They'll be your go-to expert on everything you need to know to get started building your dream home on a slope.
Haven't found that dream slope yet? Let LandCentral guide you to hillside bliss.