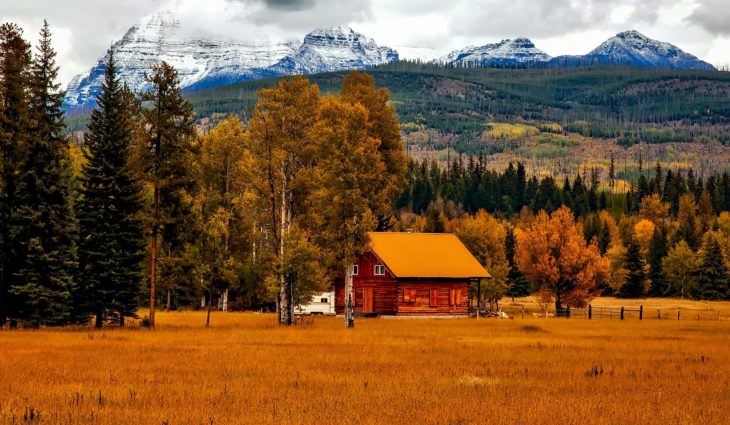 Costilla County is one of Colorado's best kept secrets. It has stunning views of mountains and valleys, wonderful seasons, outdoor recreation, and wide-open spaces. Charming towns are speckled throughout, and the wildlife is aplenty. It also has an abundance of land available. If you're looking for ideas of what to do with land in Costilla County, we've got you covered. Check out LandCentral's 5 Potential Uses for Costilla County Land:
1. Build an Off-Grid Homestead
Property to do this on: Large 5 Acres with Mountain Views
This is the perfect lot to build an off-grid homestead. Raw and untouched, this beauty will need a septic and well to get started, then after that it's all yours. Bring your imagination and build with the views in mind. Plant a garden, raise some goats, and say goodbye to the loudness of the world. The best part? While you're tucked away on your spacious 5 acres, you're still just a quick drive to the nearest town for supplies. The best of both worlds if you ask us. Scared to dive in to living off-the-grid? Check out the 5 Most Common Mistakes to Living Off the Grid and How to Avoid Them.
2. Create a Personal Retreat
Property to do this on: Over 5 Acres of Personal Private Getaway
When you purchase raw land, you don't just have to live on it. You can visit it. That's right. This beautiful 5 acres can become your personal retreat when you just need some peace and quiet. Park your RV for the night or campout all summer on this raw beauty. Fall asleep under a star-filled sky and wake up to the gentle call of nature. Bring the quads and explore the land or simply sit in quiet contemplation before heading back to your permanent residence. Because owning a large plot can be so much more than building a forever home. Not interested in building or camping? Check out the Top 6 Ways to Make Money on Your Land Investment.
3. Parcel it Out
Property to do this on: Sangre De Cristo Ranches Acreage
Maybe you changed your mind and you decide you don't need 5 acres all to yourself. Good news! Parceling out your land is just a quick re-zoning away. This 5-acre plot has a minimum lot size of 1 acre, meaning you can zone it for 4 other lots to be parceled and resold to other dreamers of building on acreage. While it may sound scary to re-zone a property, it's really just a little research and paperwork. But if 5 acres is too much land for you, it's definitely worth the leg work and recouping some costs. Want to know how? Check out How To Change Zoning on Land.
4. Build a Vacation Home
Property to do this on: Serene Mountain Paradise on Nearly 5 Acres
Vacation retreats are all the rage, and this property is perfect for such a space. Sloped land is ideal for vacation homes because of the amazing views they offer. Sip your morning coffee while staring at the magnificent Mt. Blanca or watch the sun set behind the stunning Mt. Lindsey, the possibilities for landscape gazing really are endless here. The location of this lot makes it the best vacation spot, with the Great Sand Dunes a quick drive away and the quaint town of Fort Garland within reach. Still not sold on sloped land? Check out Sloped Land: The Good, The Bad, and The Awesome.
5. Invest and Wait
Property to do this on: Investor Packs
So you're still not sure what to do with your land, but you know you want to own it anyway. You see the value land has and you want a piece of that pie. Well you're in luck. Investing in land and sitting on it until the time is right is also a possibility. These Investor Packs offer large acreage, ample possibilities and a great way to make some money. Parcel them out, build a subdivision, establish a nature preserve, the skies the limit. Check out the packs below:
Note: All land use and build ability needs to first be verified through the County.
So there it is. 5 Potential Uses for Costilla County Land. You're welcome.