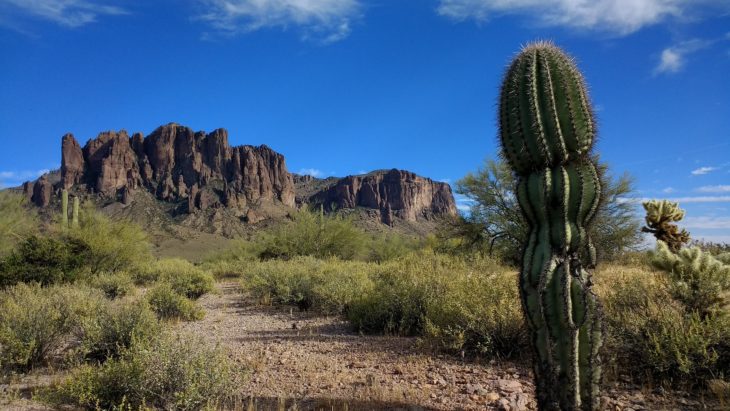 Tucked away in central Arizona is beautiful Pinal County. This region is the third most populated county in the state and for good reason: all the awesome things to do. Don't believe us, check out the LandCentral approved 8 Awesome Things To Do in Pinal County:
#1. Hike the Peralta Trail
Known for it's breathtaking views of Weavers Needle, Peralta Trail is a 3–4-hour hike climbing up the Peralta Canyon. A popular hike in the Superstitions area, but well worth the trek in our nature loving opinion.
#2. Visit the Boyce Thompson Arboretum
This 320-acre oasis was created in the 1920s as a way to study desert plants. Now the Boyce Thompson Arboretum is home to several gardens, natural formations, and beautiful winged creatures like hummingbirds, turkey vultures, and butterflies. If botany and natural history is your thing, then this adventure won't disappoint.
#3. Check out the Arizona Renaissance Festival
Giant turkey legs and jousting tournaments? Sign us up. That's right, Pinal County transforms 30 acres of desert land into a 16-century English village for their annual Renaissance Festival. Authentic food, entertainment, and costumes. A Pinal County event you don't want to miss!
#4. Cruise Canyon Lake
Enjoy a romantic dinner for two on the Dolly Steamboat, a 150-passenger paddle wheeler. Cruise Canyon Lake as you take in the beauty of the red-rock cliffs below the Superstition Mountains. This buffet style dinner is a favorite date night for most Pinal County residents.
#5. Rock Out at Country Thunder
This four-day music festival is Arizona's music super bowl! A country music event like no other, from dancing to shopping, music lovers flock to Pinal County for this annual hoe down. And we're not talking no-namers headlining this event, Country Thunder brings out the big guns. Like Eric Church, Luke Combs, and Shari Rowe.
#6. Get Spooked in a Ghost Town
In 1890, Goldfield was once a bustling town of 1,500. A few years later the town went bust. Now it's a thriving ghost town with tours of the Mammoth Gold Mine and reenactments of Old West shootouts. There's even a Mystery Shack where water runs from unconnected faucets. Travel back in time with this historic gem.
#7. Visit Schnepf Farms
Known for its peaches (yes, peaches in Arizona!), Schnepf Farms has everything you could want in a farm. In the spring, go for the peaches, pies and jams, and in the fall go for the pumpkins, petting zoo and carnival. This place proves that in Pinal County, there's something for everyone. Their motto is literally "We grow fun."
#8. Skydive Arizona, if you dare!
Check off your bucket list with this daring Pinal County skydiving adventure. If you've always wanted to hurl yourself out of plane at 13,000 feet with nothing but a parachute and a professional strapped to your back, then this has your name written all over it. See the true beauty of the Arizona desert from a view like no other. Definitely not for the faint of heart.
So there you have it. The 8 Awesome Things To Do in Pinal County. Whether you live there or travel there, one thing's for sure, you'll never get bored. If after reading this you're all in for a permanent move to beautiful Pinal County, let us know. We've got tons of properties just waiting for adventurers like you.