Step One:  Decide How You'll Use The Property
You want to make sure the property you buy is everything you've dreamed of. Think about those dreams before you begin your research.  Do you want to build a house now, or retire there in a few decades?  Do you want to use the property for hunting or camping? Would you like to just hold onto the parcel and sell it in a few years for a profit?
People who buy from LandCentral use their properties in a variety of ways – they visit the land and enjoy it recreationally while waiting for the value to rise. Then they sell the property for a profit and use that money to invest in a second piece of property better suited to build a retirement home.  This is a great way to get the full benefit of being a property owner and a smart investor.
Whatever your dream is, there is property out there for you. Our five steps of property research will help you recognize it.
Step Two: Where To Buy Your Property
Decide what areas of the country interest you.  It could be sunny Arizona or scenic Colorado or anywhere from Oregon to Florida.  Many people want property that is close to where they already live, but if you want to explore other areas, here are some things to look at:
Climate: Weatherbase is a great place to look up average temperature and precipitation for the area where you are buying.
Price: Use searchLandCentral to compare the prices in several different areas at once.  You can compare California, Arkansas and Oregon land for sale all at once, and see which area offers the price range you can afford.
Growth: Is the area growing?   This can be a tricky thing to measure, but one resource you can use is QuickFacts. This site will give you population and growth statistics as well as median house prices and many other statistics based on the last national census data. The Census website also offers a Quick Guide on how to get the most out of the Census website.
Features: Look into the positive and negative features of the general area and decide what fits your dream.  For example, is there water such as a lake or the ocean nearby?  How about mountain views?  Do you want a lot of neighbors or a lot of privacy?  Is there an attraction in the area you would enjoy?  Is this region known for excellent fishing, golf, hunting or other recreation?  These are all questions that can impact your decision to buy in a specific area.  A Google search of the county or towns in the area can help you to find out much of this information.
Step Three: Select Possible Properties
Visit LandCentral and pick out several properties that fit the criteria you've chosen.  You can use our Search feature and our Compare Properties function to help you look at several properties side by side to find the ones that best suit your dreams.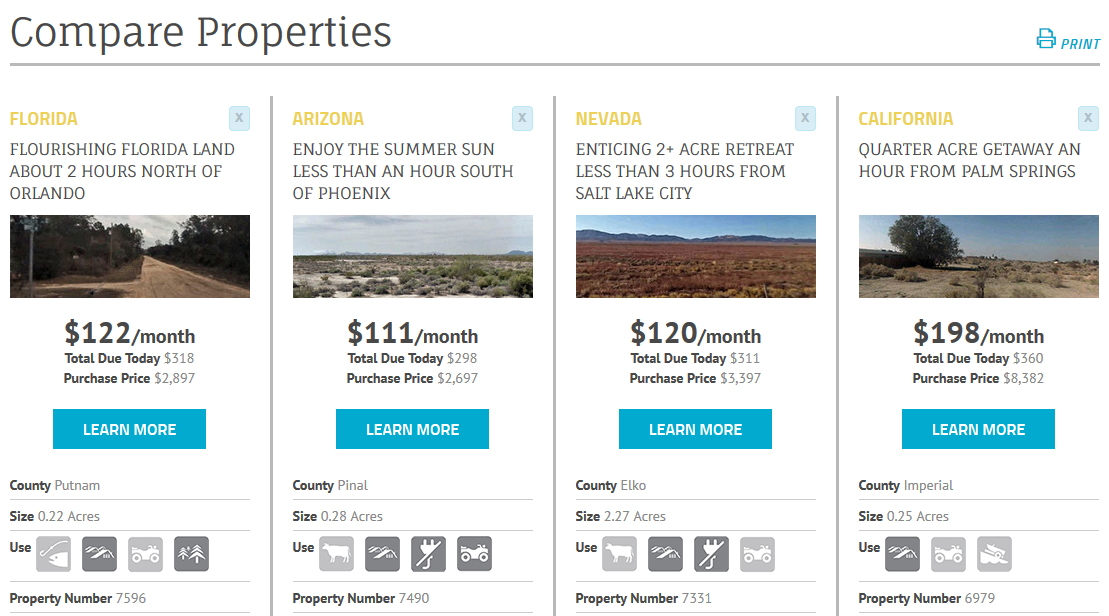 You can see from this screen shot how easy it is to compare many features such as price, size, Property Use, Access and other features.  For more information, visit each property page and you will be able to find Satellite Views and pictures, zoning information, driving directions to the land, and many other things.
You might not need to go any farther, many people find all the information they need on LandCentral.com and move right to buying the land from this step.  But if you want even more information, move on to …
Step Four: In-Depth Research
Although LandCentral tries to provide all the information we can about our properties, we can't foresee every situation or answer every question you might have up front.  For instance, the cost of building a home on your property depends on how big you want the home and what features you want to include.  If you want more information that you can't find on LandCentral.com, give us a call.  Hopefully, we can help answer your questions over the phone or direct you to a few outside resources if we don't have the answer.
County Planning Department: This might be called the Building Department or Planning and Zoning Department depending on the county, but whatever the name, they keep track of property zoning, allowed uses and building requirements.  You can give them a call and provide them with the Assessor Parcel Number (APN) of the property you are considering.  Then describe what you want to do with the land, and they should be able to help you understand the steps you would need to take.
HOA/POA: If your property is part of a Property Owner's Association we will list this information on LandCentral. We can also provide you with documents about them such as their Terms of Use.  But if you have more questions about possible restrictions, how dues are applied, or anything else, give them a call.  Many POA's provide road maintenance, utility monitoring and other services, and they will be happy to tell you the advantages of being part of their community.
Taxes: We provide the yearly property tax amount with each of our property listings, but if you would like to verify this amount or ask how this tax amount is determined, you can call the County Treasurer's Office.
Ownership: LandCentral owns all of the properties shown on LandCentral.com outright and we keep the title of each property recorded under the name of one of our holding companies until the property is sold. Holding companies are frequently created, owned, and used by businesses as a form of asset protection.  If you want to verify our ownership, you can call the County Assessor's Office.
Pictures: We provide a satellite image of all of our properties.  This image is taken from Google Earth, which is a free, downloadable program.  You can zoom in and out of this image to get an idea of what the property looks like. If you download Google Earth you can look at even more features, for example you can tilt the image to check slope.  We also provide a Street View image, either of the property itself, or from the nearest point where we can get an image.  You can find other Street View images and photos people have posted of the nearby area on Google Earth.
Step Five: Visit The Land
Although satellite images and photos can be very helpful, the very best way to determine whether a piece of land will work for you is to visit it yourself.  We provide driving directions to all of our properties, based on the latitude and longitude.  If it is not possible to visit the land before you purchase, you can often gain valuable information by contacting someone who lives in the area, for example a local real estate agent, and ask their opinion of the general area.
That's it. Follow our Five Steps of Property Research and you'll be ready to purchase the land of your dreams.