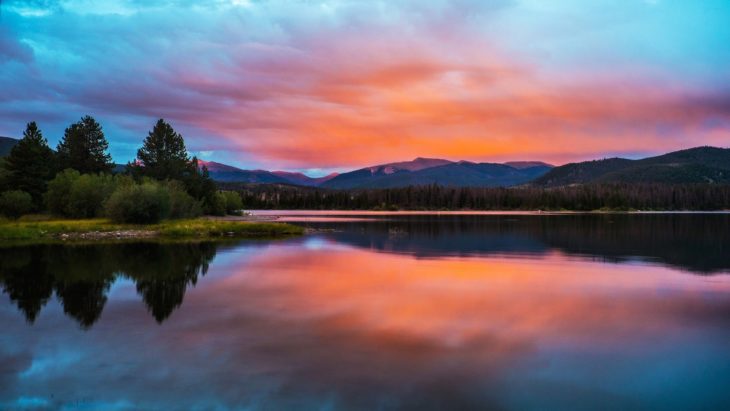 Colorado is becoming one of the most desirable states to live in for 2021. With breathtaking scenery, optimal outdoor recreation, and an emerging culture, this place really does have it all. If you're dreaming of owning a piece of the Centennial State, but still not ready to act, we're here to help! Check out LandCentral's 7 Reasons to Move to Colorado Now:
1. Nature Galore!
From endless hiking trails to stunning mountain tops, you'll never get bored in Colorado's landscape. Check out the magnificent Rocky Mountains or stroll through the Garden of the Gods. Catch fish in Hanging Lake or float down the Cache La Poudre River. The possibilities are truly endless in the Colorado wilderness.
One of our favorite things to do is explore the Great Sand Dunes in Costilla County. A less populated part of the state, Costilla County is home to these awe-inspiring dunes that you have to see to believe.
2. Going Green is Easy.
Colorado ranks 21st among the "greenest states" and 10th highest for eco-friendly behaviors. The state offers an Energy Tax Credit, easy access to recycling and solar power. In cities, residents are encouraged to bike around town and electric cars can easily find charging stations installed throughout. Most businesses tout their environmentally friendly values by way of organic farming, chemical free cleaners, kitchen waste composting, and upcycling products into reusable goods. Many residents here live off-grid completely because it's just that easy to do in Colorado.
Speaking of off-grid, Costilla County is one of the best counties to build an off-grid homestead, with its wide-open spaces, freedom from noise pollution, and four annual seasons.
3. Dogs are Welcome Everywhere.
With endless outdoor adventure for your family pup, Colorado is known as a dog friendly state. City restaurants, hotels and apartments cater to dogs and dog parks are sprinkled throughout. Your dog will quickly feel at home in this adventurous state.
Did you know dogs love to run on open acreage? Check out this property in Costilla County, where your furry best friend can race across the open landscape till their heart's content.
4. Healthy Living is a Way of Life.
Most Colorado residents have one thing in common: they value a healthy lifestyle. This ranges from getting outside in nature, exercising their bodies, and eating a healthy, locally grown diet. They also like to keep their stress level down by playing more and working less. If you've been thinking of changing your habits but not sure how to go about it, befriending your Colorado neighbors might be the right influence you need to get started.
Check out Culebra Peak in Costilla County for hiking, biking, and climbing.
5. The Food Scene is On Point.
Colorado's food scene is quickly becoming a culinary hot spot. From its unique wild game menu items to Rocky Mountain Oysters, Colorado has become a foodie's paradise. It's even home to several celebrity chef restaurants from Top Chef.
Interested in eating your way through Colorado? Check out this easy guide.
6. The Job Market is Booming.
Over the past few years, Colorado's cities have experienced the great migration, with people moving from all over the US to this higher altitude state. This has been good for business. In fact, Colorado has had one of the most stable job markets since the 1990s. And with the legalization of cannabis in the state, even more jobs and services have been created.
Looking for a job before you move? Check out this awesome list of cities with the hottest job markets.
7. Sports for Everyone.
Colorado is home to several professional sports teams including: the Denver Broncos (football), the Colorado Rockies (baseball), and the Colorado Avalanche (hockey). And when you're not watching the pros play sports, the recreational sports scene is full of options for us casual players. From skiing and rock climbing to white water rafting and any kind of childhood sport you can think of. An active lifestyle is a must in this friendly state.
So there you have it. If you've ever wanted to live near the wild wilderness without sacrificing the suburban comforts, then Colorado is definitely the state for you. We've even got some pretty awesome properties to choose from for those who are ready for adventure today!