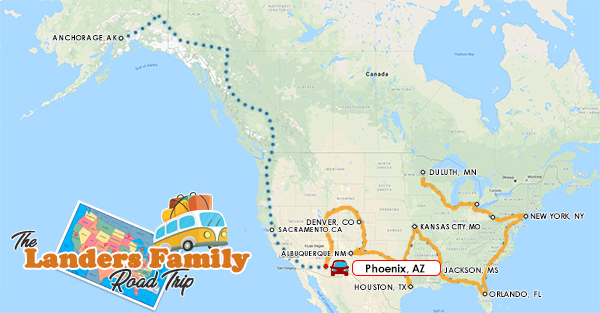 Phoenix's Camelback Mountain may not be a true camel but it sure looks like a giant one from the base!
---
After leaving the Rockies, the startling change in landscape and climate has the Landers Family up bright and early and ready to explore!
---
Starting his day at Tres Leches Cafe, Papa savors his Mexican Hot Chocolate fresh Baked Pan Dulce and plans his day's meals. With the unofficial birthplace of the Chimichanga being Arizona, Papa heads to La Pinata to sample a Machaca Chimichanga and although his stomach may burst from so much goodness, he finishes off his meal with a Sopapilla with Honey. Delish! For dinner, Papa encourages the family to join him in supporting another family and they all eat together at Pachamama, a family run, 100% plant based, pop up restaurant. A perfect, clean meal to end the day.
---
Mama Landers spends her day soaking in the rich arts and culture at the Heard Museum. After immersing herself in all the American Indian art, she then visits the Pueblo Grande Museum to walk the interpretive trail that displays the remains of the prehistoric Hohokam people's village, tour the replicated dwellings and gardens, and learn more about life of the American Indian. What an enriching experience!
---
All four professional sports teams have a home in Phoenix, along with loads of other sports. But Jack and Jill decide to challenge each other to 18-holes of golf instead! They head to Troon North Golf Club and get to engage in a healthy competition with each other, while also taking in the spectacular desert.
---
Sally and Sam debate whether or not to join their siblings and complete the foursome. But they decide there is so much to do in Phoenix that they will venture out on their own and compare notes later. These two decide to do their own challenge. They sign up for the Urban Adventure Quest and enjoy a fun scavenger hunt. Historic buildings, cultural landmarks, downtown, public arts – what more could you want! They are able to complete their "hunt" and still have time for more fun. So they rent two Stand Up Boards and paddle the Salt River. They witness birds, bobcats, snakes, and so many wild horses. Seeing wildlife from this vantage point offers the kids a unique perspective they will never forget.
---
After their Phoenix experience, the family feel a greater sense of connection with nature, culture, history, and their own nuclear family. They will need some down time to process all that. But no rest for them – on to their next destination!
---