Big City meets Family-Friendly Feel in one stop.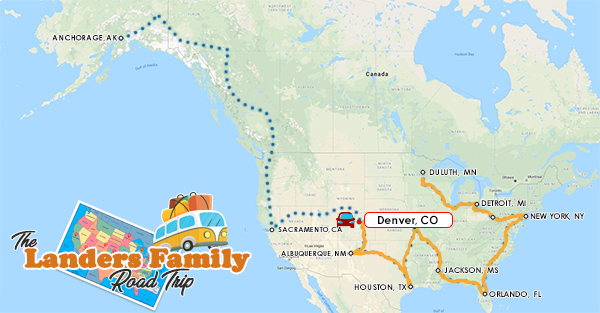 ---
Like an all-inclusive resort, Denver is able to completely satisfy every family member's goals easily. The Landers will struggle to fit all of their wants into this short trip, but at least they know they can always come back. Denver will welcome them with open arms!
---
Papa Landers starts his day with a bit of humor mixed with a grumbling stomach. A Denver Omelet from one of the Delectable Egg locations gives him a great start to his day. Papa fully embodies the "when in Rome" attitude so although he tries his best to convince the family to join him, he is on his own in experiencing some good, local Rocky Mountain Oysters. He visits the Buckhorn Exchange, the city's oldest restaurant. If anyone has mastered Rocky Mountain Oysters, surely it is the Buckhorn Exchange! The cherry on top of the daily menu for Papa has to be a cinnamon roll from the Butcher Block Cafe. Like a hometown diner with gourmet cinnamon rolls, Papa feels like the Mile High City is one step away from Heaven!
---
Mama Landers agrees wholeheartedly. There is so much arts in Denver that any direction she chooses to go she will easily find something to feed her creative soul. She could spend all day at the Denver Arts Museum and still come back for more. But she keeps herself at a quick clip so that she can sample even more. She chooses to get a City Pass which allows her to customize the attractions she wants to visit – from the Denver Museum of Nature and Science, to the History Center, and the Botanic Gardens. There is so much to see and do!
---
Jack and Jill feel like Denver is the perfect place to show their sports enthusiasm. They map out their day to include a visit to the Boulder Valley Velodrome to be awed and inspired by the high intensity bike racing. Watching these riders makes them realize just how slowly their mom and dad drive the car! From there, the kids hit Infinity Park to watch a Rugby Match. As the first rugby-specific stadium in the nation, Infinity Park is huge – covering 8 city blocks! After watching American football and soccer in previous cities, watching Rugby in Denver gives the kids a new appreciation for the physicality of the sport. They end their day in a calmer manner – cheering on the Colorado Rockies.
---
Sally and Sam don't want to leave and they haven't even started their day! They choose to start their day at a slightly slower pace than typical for them. They visit the Denver Curling Club and take a lesson on how to Curl like the Pros! To get their blood flowing faster, they then go to Progresh, an indoor action sports training center where they try their hands (and feet) at the Slackline, do a little parkour, and some indoor skiing and snowboarding. Because it is summertime, they end their adventure at Boulder Playpark, where they get to get their feet wet at this whitewater park. It's an amazingly full day for these kids.
---
The family consensus is that for a group with such diverse interests, Denver hits every nail on the head for them!
---