Everything is bigger in Texas so the sky is the limit for the family. Or is it? As the world capital for space exploration, even that may be up for debate. One thing is certain, the Landers family will definitely be busy here!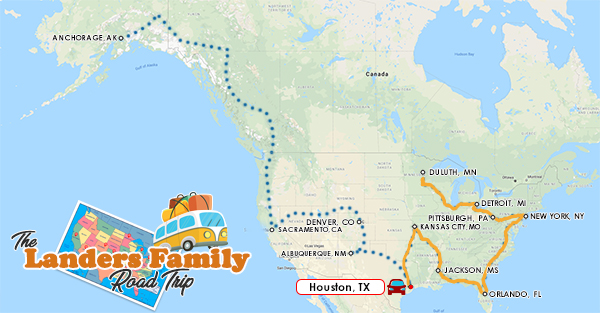 Papa Landers has a few obvious places he needs to seat himself. Staring with the Kolaches, his first decision of where to go is not an easy one. With so many choices he can just throw a dart at the map. For a local favorite, he visits Torchy's for some queso. Dinner he needs to decide between Chicken Fried Steak, Barbecue Brisket, and Viet-Cajun Crawfish. Once those decisions are made a simple search will show him the way. Fortunately, with the famous Downtown Tunnels, Papa can stay cool while working off his hearty meals.
As an internationally recognized performing and visual arts mecca, Mama Landers can start directly by visiting the Theater District or the Museum District, along with any of the sub-districts that are home to the multitude of creative ventures. Referring to a site dedicated entirely to her passion, Mama loses herself in creative outlets while in Houston.
Randomly running into J.J. Watt, Jack and Jill are on Cloud 9. In typical J.J. Watt fashion, he not only offers his autograph and a selfie to the siblings, he gives them a personal tour of NRG Park, home to the Houston Texans. To compare football to FOOTball, the kids then take in a soccer game by cheering on the Dash. Although they don't agree on which style of football is better, they do agree that they could stay in Houston forever!
Sally and Sam concur! With the highest acreage of parkland per capita, the kids find easy ways to be active and stay cool at the same time. Although there is so much to explore, the kids decide to make Typhoon Texas Water Park their home for the day. They have a huge checklist of other places to visit after they cool off.
One thing is certain, the only problem the Landers have with Houston is that there isn't enough time!