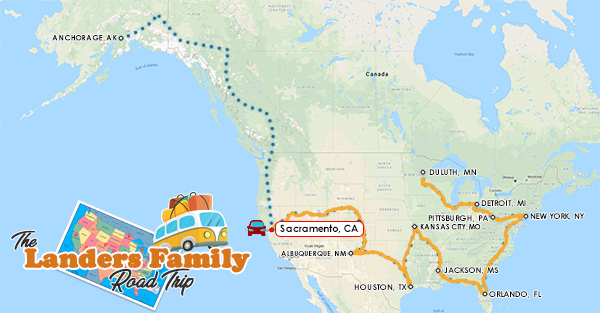 From the Goldrush Era to the Hipster Hangouts, the Landers will fill their souls in Sacramento
Although there isn't one specific food or drink that Sacramento is known for, that doesn't stop Papa Landers from finding the best places to eat and drink. Papa begins his day with a stop at Chocolate Fish for a kickstart to his day. Lunching at the Magpie one of the original Farm-to-Fork establishments before that was a "thing", Papa enjoys a local and fresh meal. For a little mid-afternoon treat, Papa saunters over to the Freeport Bakery to enjoy a lovely cake parfait. Making sure the family all dines together at Frank Fat's, the oldest single-family-owned restaurant in the city, the Landers always find ways to appreciate family. Then the children are sent off to bed and Papa and Mama head to the Shady Lady for an after-dinner drink and to celebrate the winding down of their once-in-a-lifetime summer roadtrip. With the finish line just ahead, this is one race the Landers have clearly won by taking their time!
---
Mama Landers day begins in the dark. Taking an Underground Tour, she learns all about how the city "jacked" itself up during the floods in the late 1800s. After being in the dark, underground tunnels, she opts for a continued historical experience and heads to the Old Sacramento Schoolhouse Museum. Seeing how far our educational systems have come in such a short period of time helps her appreciate that summer is ending and her own kids will soon be back in their own ever-changing school system. To gives thanks for all she and her family has, Mama then visits the Cathedral of the Blessed Sacrament, one of the most historically significant buildings in Sacramento. With its roots starting back in the late 1800s, the Cathedral is a breath-taking sanctuary.
---
Jack and Jill team up with Sally and Sam in Sacramento and take in the outdoor activities together. Starting at William Land Regional Park, the kids hit the jogging path for a warm up before competing in a 2 x 2 pick-up soccer game. After that, they are ready to cool off with a guided White Water Rafting trip.
---
At dinner, the family agrees that Sacramento has something for everyone and with the warm and temperate climate, a family that enjoys being outdoors would easily find their happiness here. Next up, something "cooler"!
---