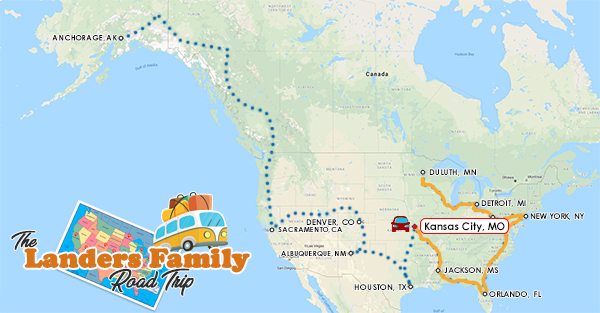 Toto, I've got a feeling we aren't in Kansas anymore!
Fun fact: Kansas City, Missouri has more fountains than any city in the world except Rome! The Landers family is ready to embrace all that Kansas City has to offer – from the fountains to the Arrowhead Stadium, which was the first to transmit instant replay.
Papa starts the family off with a healthy breakfast and a dose of appreciation for their summer road trip at Cafe Gratitude. After asking their serving her favorite places to eat and drink, Papa compares that list with places he found online. To his pleasant surprise, the city has a wide range of diverse options for discerning palates such as his.
Based on an older article from Travel & Leisure, Mama Landers anticipates finding some really fun hipster outlets for arts and culture. She wanders the World War I Museum, the iconic Kaufman Museum, and wraps up her walking tour with Art Alley to give her a true appreciation for just how diverse and unique Kansas City residents are.
Jack and Jill start their trip cheering on the Royals at "the K". No matter how fast paced baseball games can be, it is nothing compared to what they see next. Jack and Jill head to the Kansas Speedway to watch the NASCAR pros race. Exhilaration and adrenaline from watching and not participating in the sports make for one exhausting day for the kids!
Summers in Missouri are long, hot and humid. Although that can make some people hide indoors with the AC cranked, Sally and Sam choose to venture out. They start at the country's third largest park – Swope Park and let the trail lead them to the Lakeside Nature Center. They finish at Cedar Lake Park, where they cool off in the refreshing water. They find that no matter how hot and humid the city is, there are plenty of places to go to cool off and still enjoy the outdoors.
The Show Me State showed the Landers Family that Missouri offers the entire family such a variety of things to do and see that they hope to plan a return trip in the future! After zigging up to Missouri, they will next zag down to Texas.